Our Challenge & Solution
Producing a beautiful, distinctive and easy to use responsive site and iOS app was only half of the challenge. I also had to set the foundation and digital experience vision for the brand so that it could compete in a sector that's already advanced thanks to forward thinking brands like Nike and SoulCycle.
With a new CMS at it's heart, I led an integrated team in the creation of a digital brand platform that brings together multichannel content publishing, a refreshed visual language, a whole host of new premium rich content, as well as a members app that enables class bookings on the go.
Content Meets Platform
Most digital design projects emphasise function and form, while leaving the content inside to the brand marketing and content teams. However, that usually just results with the same tired images and copy that prompted the need for a redesign in the first place, dragging down the new project under the weight of it's disfunction.
With the new Virgin Active experience, I focussed our teams on creating compelling new content as much as with the form and function of a fresh new design. Whether it was a whole new series of class trailer videos to market Virgin Active's leading class offering; or the narrative member on-boarding videos; or the instructional how to clips; our new site had as much to say about the brand as it did to show.
Class Trailer: Mudder Maker (with custom class-sampled audio track)
The big idea here was to create premium, highly polished previews of what it feels like to take one of Virgin Active's exclusive classes – to get the audience wanting to see and experience more.
In order to express that feeling that Virgin Active always goes the extra mile to make sure it's activities are of the highest quality and innovation, we also created custom audio tracks for each trailer made from the sampled sounds that one actually hears in the class.
Class Trailer: Nova (with custom class-sampled audio track)
Class Trailer: Zuu (with custom class-sampled audio track)
FILM: Family Swimming Promo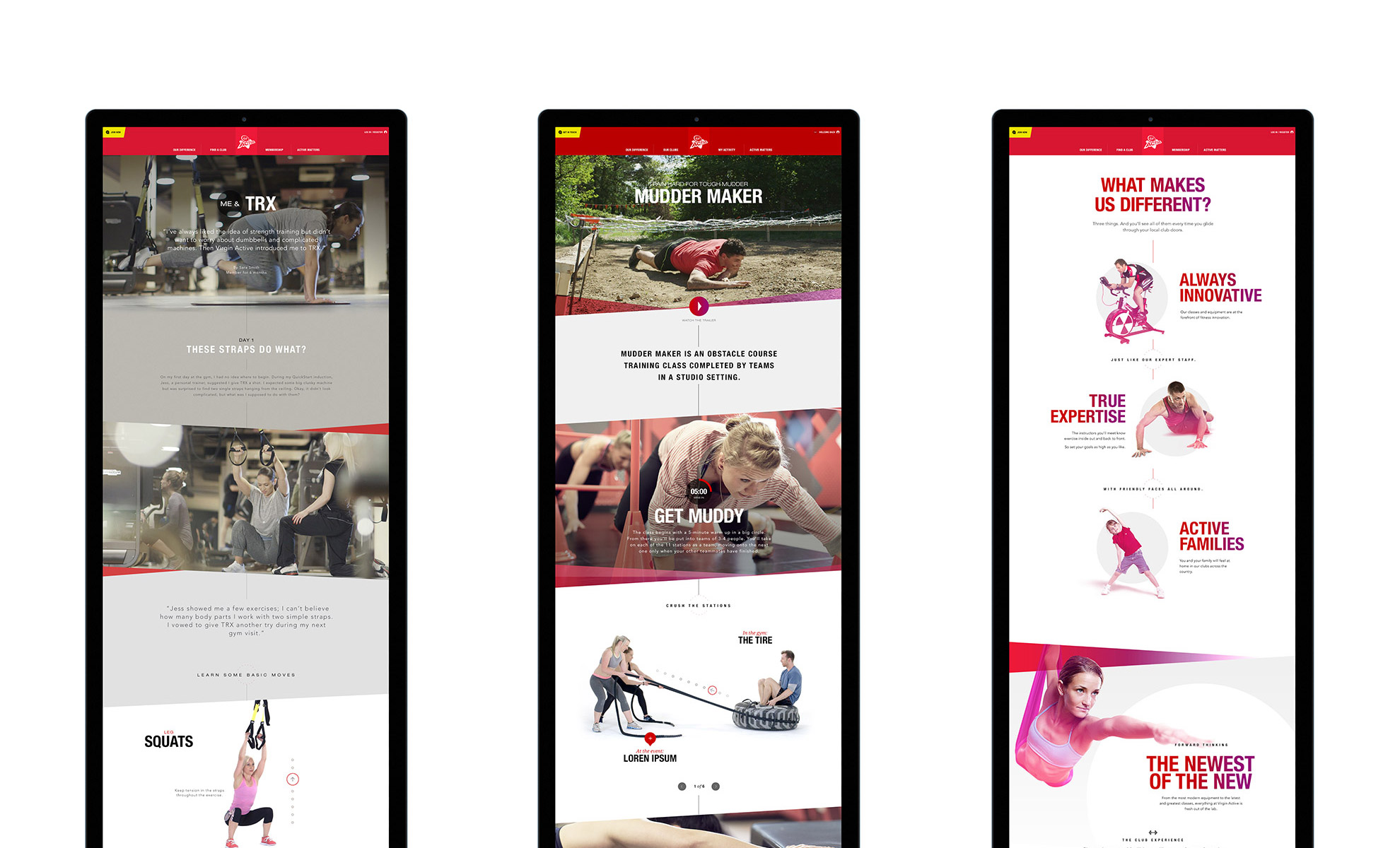 A bold design that breaks from the formula of the modern web
Let's face it, as a result of responsive web standards, most modern websites look alarmingly similar. Everything is overrun with rectangles, large images and simplicity run amok.
With the Virgin Active relaunch, we not only managed to overcome some of that blandness, but we were able to evolve and influence the offline brand language with our digital first approach. The designs was highly kinetic, relying on a combination of bold design, HTML 5 animation and video to inspire and guide our user down the beautiful, long narrative pages.